About the Leica Photography Forum
greenspun.com : LUSENET : Leica Photography : Policy
---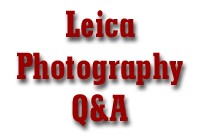 The Leica Photography Q&A Discussion Forum
This forum is for discussing Leica cameras and any associated equipment in the persuit of great photography. You are encouraged to post any questions, or contribute any answers, about Leica photography.


Here are some guidelines on how to keep this forum one of the most friendly and effective discussions in the Greenspun domain:
Please be nice. No explanation necessary.
No profanity allowed. The Leica culture is diverse. Many interpret profanity as breaking rule #1 above. Many do not. Err on the side of caution, please.
Please contact me (rowlett@alaska.net) for help in posting or with hyperlinks or posting images or whatever. I'll try to help out as soon as possible.
Please browse around the existing new or categorized threads before posting a new question. You may locate a similar question and possible answers. However, this will not be a strictly enforced rule due to the fact that searching is not all that easy. Duplicate questions are bound to crop up from time to time. To reduce the duplication, users might like to include hyperlinks to other pertinent threads within their responses.
Please consider using emoticons, e.g. :-) or ;-) or even :-( in your post when you say something that could be taken the wrong way. The most common one is :-) to symbolize a smiley face, often used when writing something in jest. Readers are less likely to be offended by remarks whose context are ambiguous. I think this position encourages free thought with minimized fear of being mistaken.
Please don't type IN ALL CAPITAL LETTERS (LIKE THIS) because it appears that you ARE SHOUTING!!!! :-(
Please try to choose the best category for your question, but if you are unsure, just leave "I don't know" in the categorization and I will deal with it later.
Please use good titles. Questions with titles like "A Question" or this question don't make it easy for forum users to find answers.
Please limit your posts to one topic or question. If you have two or more topics to post, simply make them separate posts. Combining topics into one post makes it difficult for people in the future to find the answers. Not to pick on Fergus Hammond, but an example of what not to do is this post that asks 3 different questions.
FOR SALE/WANTED TO BUY posts are perfectly acceptable as long as they are posted by a private individual, preferably a regular forum user, and NOT any kind of retail outlet, however. Please use appropriate titles that begin with either FS: (for "For Sale") or WTB: (for Wanted to Buy). Please notify me when your item has sold or you have found what you wanted to buy. This is so I can remove the leftover thread and thus keep our forum interesting and clean. Please do not add interesting content to FS/WTB threads, excepting questions and answers that directly assist in either the item being sold or purchased. The reason being that presumably, the thread will go away when the transaction is made, and I'd hate to delete important content.
FINALLY, please let me know your thoughts about these guidelines, categories, and forum management in general.
Thanks for being a member of the Leica Photography Q&A Discussion Forum! Please share your knowledge and experience.
How this System Works
This bboard software was written by Philip Greenspun and hosted for free by him started in 1995. Anyone could come in and create a forum and moderate the discussion. Most of the thousands of forums on this server were and are publicly searchable by Google and other Web indices.